SPECIAL EVENT – EXCLUSIVE SCREENING – WEDNESDAY 27 FEBRUARY 2019
18:00 at Palais des Nations, Room XXIV

for Students, Academics and Researchers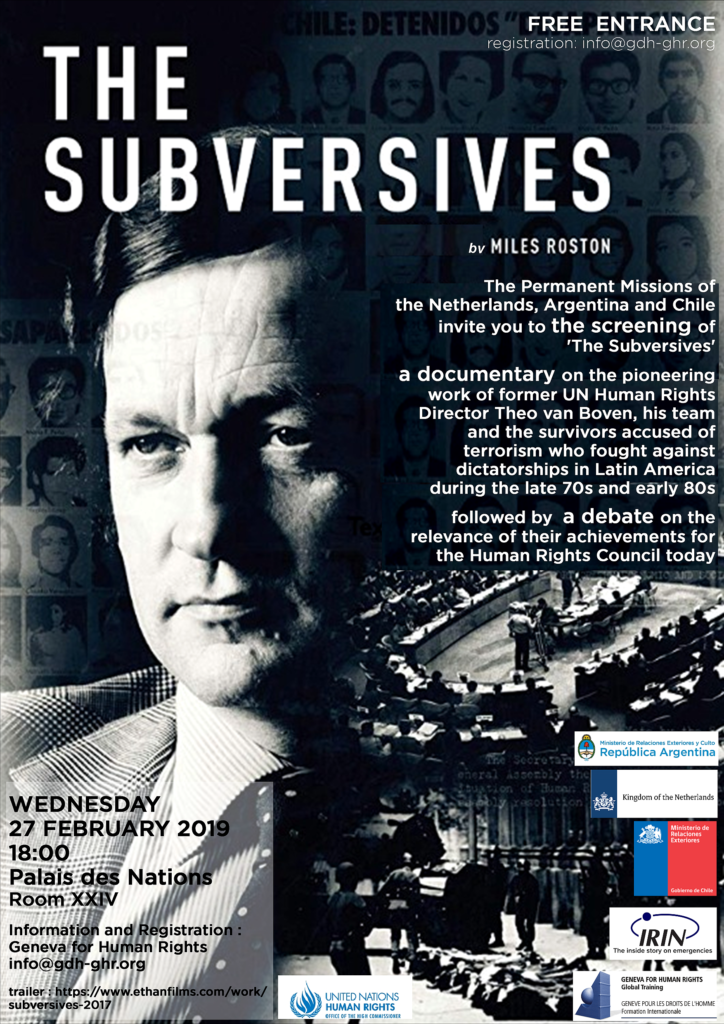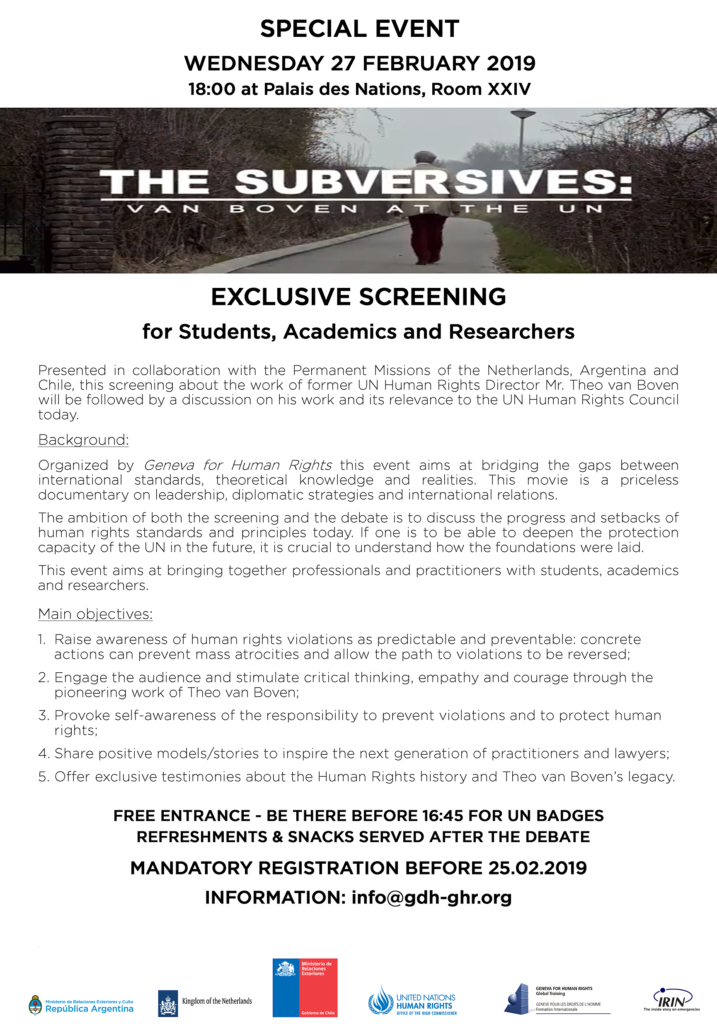 Presented in collaboration with the Permanent Missions of the Netherlands, Argentina and Chile, this screening about the work of former UN Human Rights Director Mr. Theo van Boven will be followed by a discussion on his work and its relevance to the UN Human Rights Council today.
Background:
Organized by Geneva for Human Rights this event aims at bridging the gaps between international standards, theoretical knowledge and realities. This movie is a priceless documentary on leadership, diplomatic strategies and international relations.
The ambition of both the screening and the debate is to discuss the progress and setbacks of human rights standards and principles today. If one is to be able to deepen the protection capacity of the UN in the future, it is crucial to understand how the foundations were laid.
This event aims at bringing together professionals and practitioners with students, academics and researchers.
Main objectives:
1. Raise awareness of human rights violations as predictable and preventable: concrete actions can prevent mass atrocities and allow the path to violations to be reversed;
2. Engage the audience and stimulate critical thinking, empathy and courage through the pioneering work of Theo van Boven;
3. Provoke self-awareness of the responsibility to prevent violations and to protect human rights;
4. Share positive models/stories to inspire the next generation of practitioners and lawyers;
5. Offer exclusive testimonies about the Human Rights history and Theo van Boven's legacy.
FREE ENTRANCE – BE THERE BEFORE 16:45 FOR UN BADGES
REFRESHMENTS & SNACKS SERVED AFTER THE DEBATE
MANDATORY REGISTRATION BEFORE 25.02.2019
INFORMATION: info@gdh-ghr.org
The Subversives (2017)
Genre: Documentary
Year: 2017
Director: Miles Roston
Cast & Crew: With the participation of: Theo Van Boven, Tom Mccarthy, Baltasar Garzón, Bertie Ramcharan. DOP: Miles Roston and Paco Belda. Editor: Sergi Dias.

Produced by: Ethan Films and Carles Pastor (Gaia Audiovisuals). With support from L1 TV, Crea SGR, Culturarts IVAC, Institut Ramon Llull
Status: Completed.
Website: ttp://www.catalanfilmsdb.cat/es/producciones/documental-largometraje/los-subver…
.