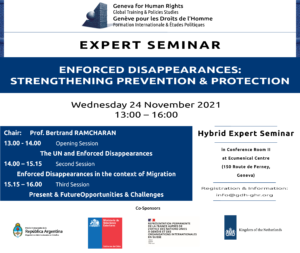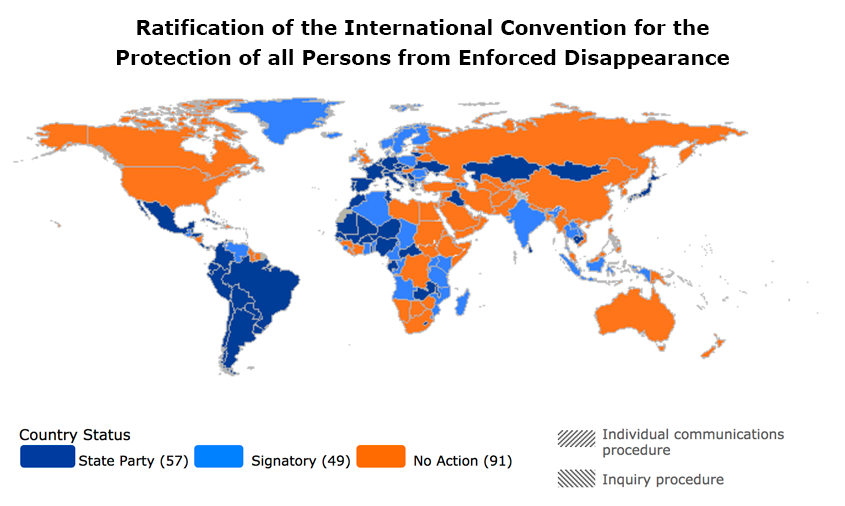 The fight against enforced disappearances has always been a priority for GHR. Several GHR members actively contributed to the creation in 1980 of the Working Group on Enforced or Involuntary Disappearances (WGEID), in the drafting of the Declaration on the Protection of all Persons from Enforced Disappearances (adopted by the General Assembly in 1992), and of the International Convention for the Protection of All Persons from Enforced Disappearance (ICED), adopted by the General Assembly on 20 December 2006. The Convention entered into force on 23 December 2010. Since then, GHR monitored all the sessions of the Committee on Enforced Disappearances (CED) and held five Experts Meetings with the CED and the WGEID (2012, 2013, 2014, 2016, 2017).
            GHR coordinated NGOs activities before and during first Conference of the States Parties to the ICED (Geneva, 19 December 2016). The Conference decided that, after its first period of activities, the CED will continue to monitor the Convention. In 2018 and 2019, GHR attended and intervened with proposals during the sessions of the CED.
Action Plan for 2020: Active participation in the 40th Anniversary of the WGEID (February and September); Follow-up to GHR proposal to the CED to pay attention to the fate of migrants who forcibly disappear (April); Expert Seminar with CED and the WGEID (last week of September); monitoring the CED sessions; updating GHR Course on enforced disappearance; initiatives to ensure that the Global coalition ICAED becomes operational.
Planned activities for 2020: GHR Course at the Lucerne Akademy (July 2020);GHR Course to students of the University of Padova during their annual trips to Geneva (May and September 2020).
"They may come at any time – often in unmarked vans, wearing plain clothes, but sometimes openly, in uniform. The people they seize may never be seen again, and their arrest and detention may never be acknowledged. Held in secret, the "disappeared" are deprived of the protection of the law; often tortured.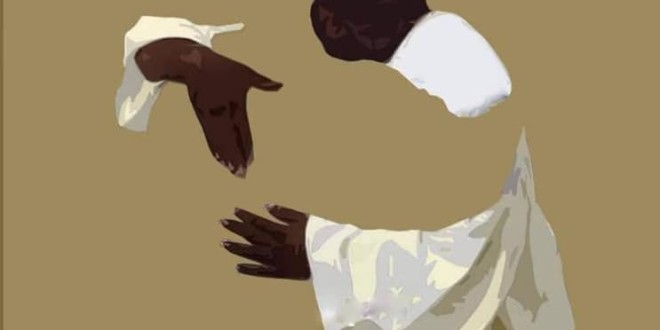 'Enforced disappearance is not a crime of the past. It is practiced by governments in every region, and in many countries is increasing.
GHR's initiative to increase the number of ratifications is strengthened by the 'Working Group on the International Convention for the Protection of all Persons from Enforced Disappearance. One of the aim of the project is to advocate and engage states for a universal ratification within five years'.'
Our Human Rights Policies Studies Department is also monitoring and analysing the meetings and trends related to the enforced or involuntary disappearances in various conditions and environments.
GHR will convene a specific expert seminar on the issue of enforced disappearances in 2020, more information available soon.