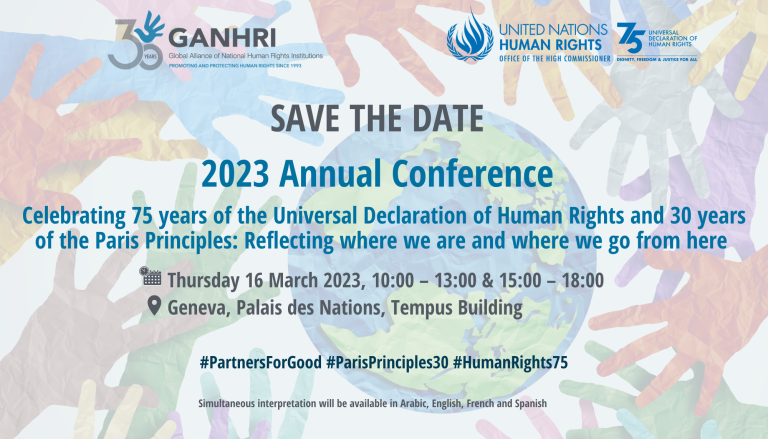 GANHRI 2023 Annual Conference
Celebrating 75 years of the Universal Declaration of Human Rights and 30 years of the Paris Principles:
Reflecting where we are and where we go from here
Thursday 16 March 2023, 10:00 – 13:00 & 15:00 – 18:00 I Geneva, Palais des Nations
The Annual Conference will be participative and interactive. It will encourage all participants to engage in an exchange of experiences, discussions, and reflections. The Annual Conference will have an opening session, followed by sessions led by different speakers and interactive group discussions. 
An Outcome Statement will be adopted by participating GANHRI members.
Agenda
10:00 – 10:30

 

High level opening: welcome and opening remarks

 

Amina Bouayach, 

GANHRI Secretary

 (Morocco) 

 

Nada Al-Nashif, 

Deputy High Commissioner for Human Rights 

 

Václav Bálek, 

President of the Human Rights Council

 

Achim Steiner,

 UNDP Administrator

 (video message)

 

10:30 – 11:45

 

Session 1 – Human Rights in 2023: key trends and threats

 

Moderated by Catherine Fiankan-Bokonga

 

Mikiko Otani, Chairperson, 

Committee on the Rights of the Child

 

Clément Voulé, 

UN Special Rapporteur on Freedom of peaceful assembly and of association

 

Mona M-Bikay, 

UPR Info

 

Adrien Claude Zoller, Geneva for Human Rights  

Therese Bjork, 

UN Human Rights Office

 

 

Michel Forst, 

Special Rapporteur on Environmental Defenders under the Aarhus Convention

 

 

 

Reflecting on the current state of human rights

 

Identifying key human rights challenges in today's world

 

Reflecting on the significance of the UDHR, the role of NHRIs and partnerships

 

 

 

Screening of a video with historic testimonies, reflecting on the value of the Paris Principles and the contributions of NHRIs and their networks 

 

11:45 – 13:00

 

Session 2 – NHRIs and the Paris Principles in today's context 

 

Moderated by Catherine Fiankan-Bokonga

 

Rosalind Croucher, 

NHRI Australia

 

 

Joseph Whittal, 

NHRI Ghana

 

Blanca Izaguirre Lozano, 

NHRI Honduras

 

 

Maty Elhadji Moussa, 

NHRI Niger

 

 

Alyson Kilpatrick, 

NHRI Northern Ireland

 

Eliana Revollar Añaños, 

NHRI Peru

 

Pornprapai Ganjanarintr, 

NHRI Thailand 

 

Dmytro Lubinets, 

NHRI Ukraine

 

Discuss the current human rights trends and challenges

 

Discussing response strategies of NHRIs to key challenges, and NHRI's challenges and needs

 

 

Reflecting on the significance of the UDHR and the Paris Principles, the role of NHRIs, and partnerships

 

15:00 – 16:30 

 

Session 3 – 

​

​

Moderated group discussions with lead questions 

 

What are your most significant achievements as NHRI in helping ensure the UDHR is a lived reality for everyone? 

 

 

How have your mandate, functions and protection under the Paris Principles contributed to these achievements?

 

 

What are the human rights challenges in your country, and how are you as NHRI working to address them? What challenges do you face? 

 

How do you build institutional strength and growth in line with the Paris Principles? Where are you progressing, what is challenging? 

 

Being part of the Global Alliance, what do you value and how do you see your role being a member?

 

16:30 – 17:00

 

Session 4 – Report back from group sessions & discussion 

 

Moderated by Amina Bouayach, Secretary 

 

17:00 – 17:30

 

Session 5 – Collaboration and Partnerships 

 

Moderated by Amina Bouayach, Secretary

 

Alice Shackelford, Resident Coordinator Honduras (video) 

 

Hassan Shire, DefendDefenders (video)

 

Christian Salazar Volkmann, UN Human Rights Office

 

Sarah Rattray, UNDP 

 

17:30 – 18:00

 

Session 6 – Adoption of Outcome Statement & Closing 

 

Regional Chairpersons 

 

Amina Bouayach, Secretary

 

 
Simultaneous interpretation will be available in Arabic, English, French and Spanish
2023-03-16 GHR GTP TSS_P GANHRI Annual Conference 2023 Draft Agenda -ACZ on HR in 2023