---
During the 43rd session of the UN Human Rights Council in Geneva (from 24 February to 20 March 2020), the coronavirus rapidly spread in Europe. At the beginning of the second week of the Council, in her letter to the Council dated 2 March, Ms. Tatiana Valovaya, Director-General of the UN Office in Geneva (UNOG), referred to the measures recommended by the Secretary General to the Chair of the Commission on the Status of Women (CSW) to shorten and scale down the forthcoming CSW session. Though, contrary to the CSW, the Council was already in session, she suggested that the Council take a similar approach,
On the same day, the Bureau of the Council decided to follow her recommendations. Representatives were refrained from travelling to Geneva for the rest of the session, and the Special Rapporteurs who were not already in Geneva encouraged to participate in the session via video-conferencing.
The main measure, that all side-events were cancelled as of 3 March until the end of the session, affected dozens of NGOs and defenders from the regions, already in Geneva, who do not have the capacity to come each time to Geneva. They paid a high price on these first decisions. Not easy to understand, as side-events are generally not overcrowded….
Later, to respect the minimum distance between delegates, the Council was moved to the Assembly Hall, with a maximum number NGO representatives, and, later, one Representative for each Governmental delegation only.
Ultimately, as the coronavirus further spread in Switzerland and in the region, leading to additional measures to contain the spread of the virus, the Human Rights Council decided to suspend its session as of Friday 13 March and until further notice.
Under the Chair of Austrian Ambassador, Ms. Elisabeth Tichy-Fisslberger, the Bureau of the Council managed rather well this difficult situation. Before the suspension of the session, the Bureau obtained that the Council extended the mandate of several Special procedures (which had to be renewed during the 43rd session) and appointed 19 new Rapporteurs and experts replacing those whose mandate had expired.  However, let's note that the suppression of side-event shall not constitute a precedent.
---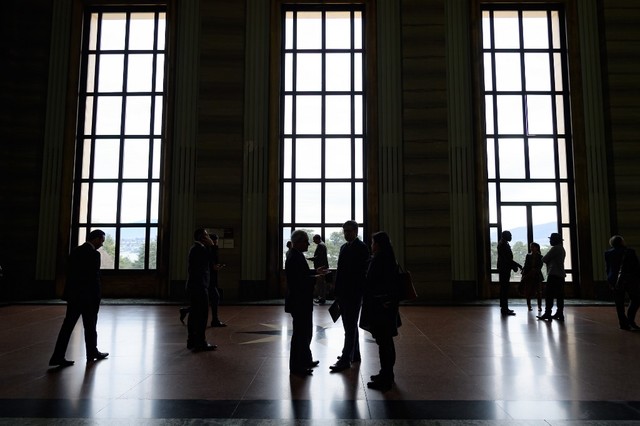 ---