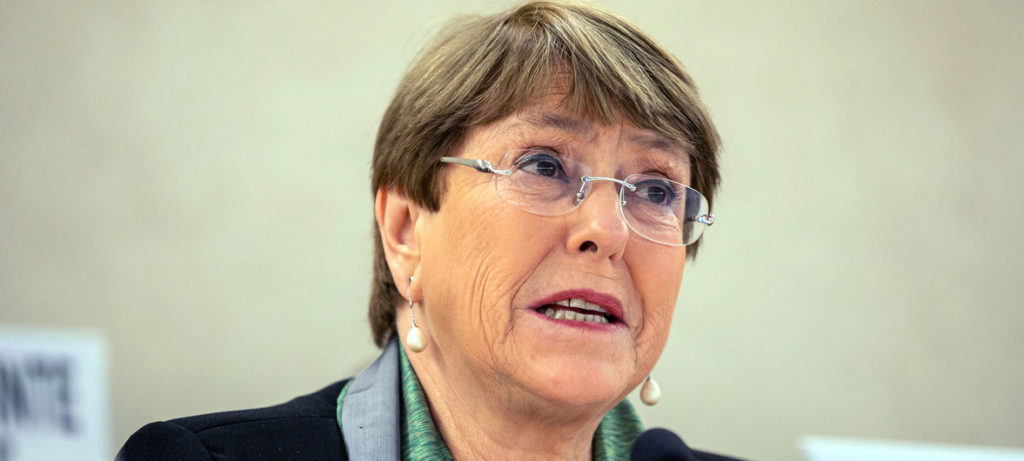 Since the beginning of the pandemic, UN High Commissioner for Human Rights, Ms. Michelle Bachelet, assumes a leadership in this crisis. She already addressed an appeal at the Human Rights Council. On 6 March 2020, she urged Member States to protect the 'society's most vulnerable citizens from the health threat posed by COVID-19, and also from any stigma faced by those who had contracted' the disease.
A physician herself, Ms. Bachelet's interventions dealt with many facets of the human rights impact of the Covid-19 pandemic. On 24 March, she called for an easing of sanctions against countries such as Iran to allow their medical systems to fight the disease and limit its global spread. She feared that sanctions could also impact medical efforts in Cuba, North Korea, Venezuela and Zimbabwe.
Her statement of 25 March 2020 concerned those detained, in prisons, jails and immigration detention centres, urging Governments 'not to forget those behind bars' and to protect those working in closed facilities in their overall efforts to contain the pandemic. She recalled that under international human rights law, States had 'an obligation to work to prevent foreseeable threats to public health and ensure that all who need vital medical care can receive it', and that the UN Standard Minimum Rules for the Treatment of Prisoners (known as the 'Nelson Mandela Rules'), set out measures to protect those in detention.
On 3 April, she welcomed the decision by many Governments to release prisoners to slow down the transmission of the virus. With her Office she urged States to release 'every person detained without sufficient legal basis, including political prisoners, and those detained for critical, dissenting views'.
Ms. Bachelet also expressed public concerns at certain specific situations. Thus, in a statement on 2 April the sudden lockdown across India, she said she was 'distressed by the plight of the informal migrant workers affected, many of whom were, in effect, forced to leave the cities where they worked at just a few hours notice, unable to pay for rent or food'.
On 9 April 2020, the Human Rights Council held a 'virtual informal conversation' with High Commissioner Bachelet on the implications of the COVID-19 crisis on human rights around the world. In her speech, Ms. Bachelet stressed that no one must be left behind in the effort to support those most impacted by the COVID-19 pandemic and that exit strategies must be carefully devised to ensure that societies and people recovered. She called for global solidarity to effectively combat this global epidemic. The pandemic was exposing the damaging impact of inequalities in every society. 'All national efforts should seek to mitigate the impact of the epidemic on women, and on vulnerable groups', she said, adding: 'in developing countries, where a large portion of the population may rely on daily income to survive, the impact could be far greater', she added. The universality of the threat from the virus provided the most compelling argument for universal and affordable access to health care. Extensive economic and social measures must be taken in every country to lessen the shocks of the epidemic and minimize the further growth of inequalities.
Ms. Bachelet also insisted on the imperative of respect for civil and political rights during the crisis. 'Emergency measures may well be needed to respond to this public health emergency. But an emergency situation is not a blank check to disregard human rights obligations'.
14.04.2020