GHR is a training and policies studies organisation. We aim at empowering human rights defenders, analyse trends, study policies and supports national and regional strategies.
We are convening a training on the Human Rights Council and its 47th session. We welcome young and experienced academics, practitioners and human rights defenders from the Regions and anyone willing to have a better understanding of the United Nation Human Rights Council and its mechanisms and bodies.
This course aims also to deliver support and training to those involved in Colombia and countries where gross and attested human rights violations occur. Colombia is not on the agenda of this session of the HR-Council, nevertheless there possibilities to raise the issue with the different stakeholders engaging in the sessions. Strategies and
An Introduction to the international human rights protection system will be given to grasp the rules, mechanisms, procedures and method of works of the various bodies of the international human rights regime.
A Presentation of the 47th session of the HR-Council and its particularities will enable us to apprehend what is at stake at this session related to its Agenda and Program of Work.
Finally, a Study Case: How to raise the urgent case of Colombia will offer tools to build up strategies to advocate for the implementation and follow-up of UN HR bodies resolutions, recommendations, decisions, communications and others pledges and commitments.
Raising an issue, country situation or thematic violation, at the level of the UN HR-Council is part of a global strategy and we offer expertise and experience in shedding the light on neglected and forgotten situation and bringing attention to situation of violations.
Do not hesitate to contact us if you need more information.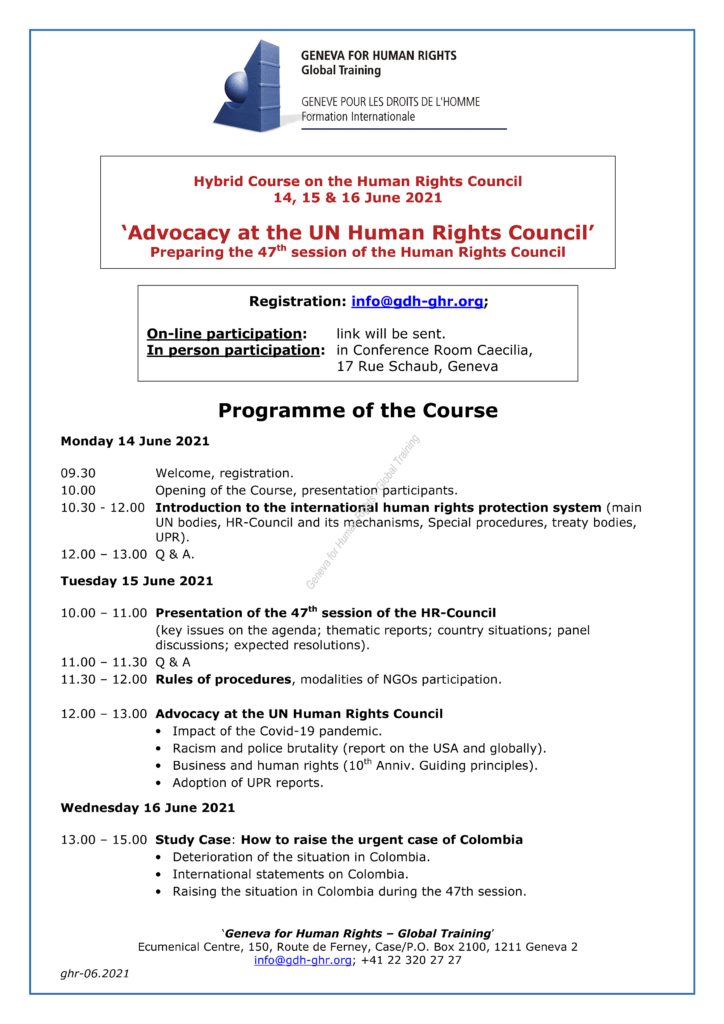 12.00 – 13.00  Advocacy at the UN Human Rights Council